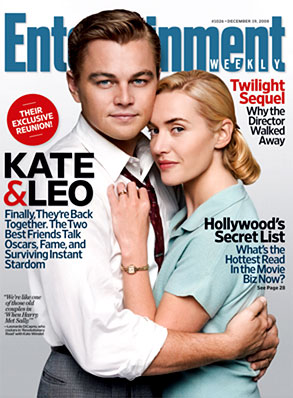 Entertainment Weekly
• Kate Winslet and Leonardo DiCaprio have his & hers Golden Globe nominations for Revolutionary Road, an adorable Entertainment Weekly cover and a relationship where Kate calls him "that little f---ker" and says, "I've literally turned into a combination of mother, sister, and, I don't know what, wife!"
• To go along with the GQ cover where she's perched like a naked bunny rabbit, Jennifer Aniston also has this inside photo of her draped across a couple male models, which is even more desperate.
• While the Brangelina vs. Aniston cover wars wage on, Maddox is back at the fortress Googling "weapons"—so Jen better put her clothes back and prepare for battle.
• Watching Britney try to sing Christmas carols is cringey.
• No celebrity magazines want to buy pictures of Ashlee and Pete's baby Bronx. Um, we'll take them. We can hook the couple up with a signed head shot of Ryan Seacrest or something in exchange.
• It wouldn't be Christmas without a Speidi photo op now, would it?
See more 2009 Golden Globes nominees in our special gallery!