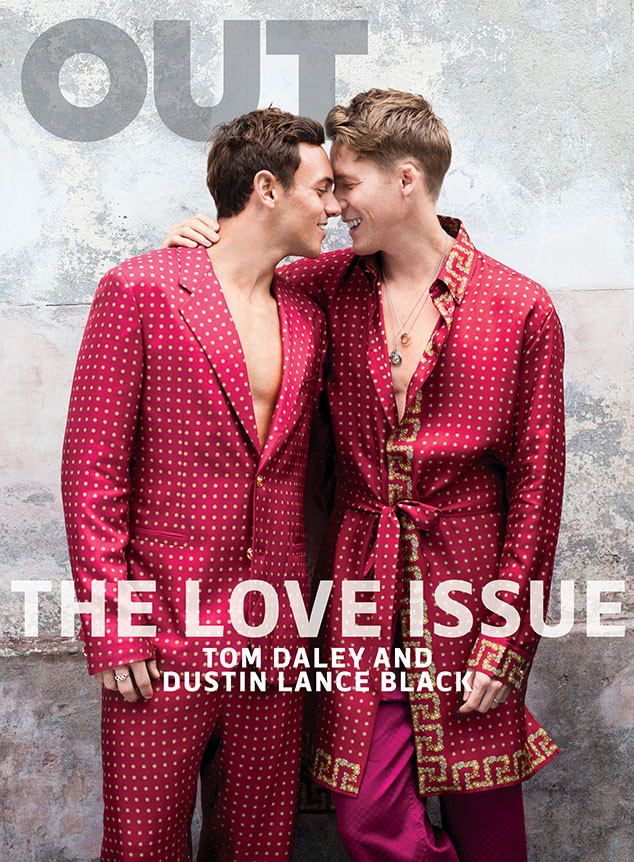 Harry Borden/OUT magazine
Three months after they announced their engagement, Oscar-winning screenwriter Dustin Lance Black and Olympic diver Tom Daleyare unveiling all the intimate details about their whirlwind romance.
As the cover stars of the annual "Love Issue" of OUT, the 41-year-old and 21-year-old lovebirds are revisiting all the moments that lead up to their October engagement. To start, Daley wasn't shy about sharing his intentions when Black piqued his fancy at an industry dinner.
"Tom took my phone, and he typed his number in with a winky face," the Milk writer described. "At which point I felt I had confirmation that he was a gay. I've never in my life heard of a straight man putting his number in another man's phone with a winky face."
On their first official evening out together, their instantaneous connection made Daley slightly nervous.
"We literally spent three or four hours talking about the crap that we'd been through. His brother had only just passed away, and my dad had died in 2011, and we talked about his mum and her struggles with her illnesses—sadly, she's no longer with us—and we just really connected," the swimmer said. "It was one of the first time that I felt, Oh my God, this isn't just a thing where I am attracted to someone. This is someone that I've connected with on a whole new level. It was new for me, and that was when I thought, 'Sh-t, I'm in trouble here.'"
Black attributes their lasting spark to more than just their picture-perfect exteriors.
"Not only is he unbelievably attractive to me, and that goes beyond just how he looks, but he gets me. He understood my competitive spirit," he admitted. "We both had been to the top of our fields – he'd been world champion, I had an Oscar—and neither of us felt we were done."