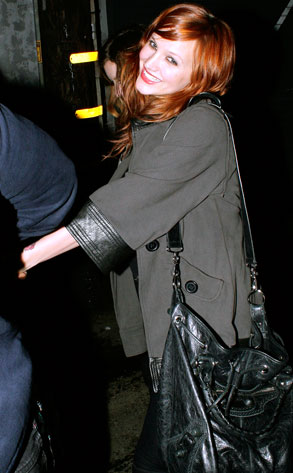 Darren/Fame Pictures
• Ashlee Simpson-Wentz checks in and lets us know everything is just peachy on her MySpace blog: "Motherhood is the most fantastic experience I have ever been thru, Bronx makes me laugh and smile everyday!" OK, that's cute.
• Are the Hansons mobilizing an army? Middle brother Taylor just had his fourth kid, a son named Viggo.
• Tom Cruise will be interviewed once again by Today show's Matt Lauer Monday. Considering he's on his "I think I could have handled things better" Valkyrie press tour, there probably won't be any glib comments.
• Tom's visit probably won't be as awesome as Carrie Fisher's Today interview in which she recounts electroshock therapy and Cary Grant telling her to stop eating so much acid.
• John Mayer liveblogged his awesome cake baking.
• Want more celeb scoop? Check out our Big Picture gallery!