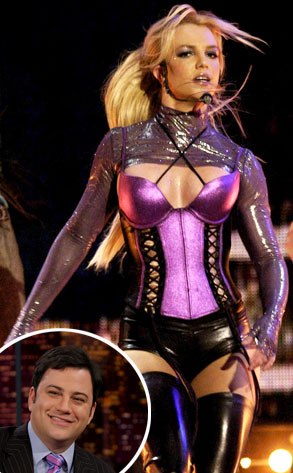 Kevin Mazur/ Getty Images, NBC Photo/ Paul Drinkwater
Will Britney Spears be the big surprise at Sunday's American Music Awards?
It would certainly make sense. She does, after all, have her soon-to-be-released new album, Circus, to promote.
But don't ask show host Jimmy Kimmel about it. If he knows anything, he's not saying. "They have these surprises that 75 people on the crew know about, but they won't tell the host," Kimmel insists. "Apparently, there is some big surprise. I sent...the producer an email yesterday and he was like, I can't tell you."
The pop princess last appeared on the AMAs two years ago, around the time she had filed for divorce from Kevin Federline.
But things didn't go so smoothly...