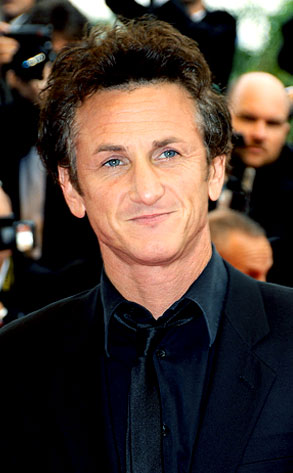 Tony Barson/Getty Images
"It was...dry."
That was Milk star Diego Luna, when asked how it was kissing Sean Penn, who plays iconic gay rights activist (and Luna's boyfriend the film) Harvey Milk. "[Sean]'s not a great kisser," Diego, who shot to fame in Y Tu Mamá También, continued bravely, as only non-Hollywood actors seem capable of. "I guess he was thinking about Franco." As in James, who plays Penn's other BF in the flick.
So I pressed Franco on how the hell S.P. smooches. He literally went on for five minutes talking about something else when I interviewed him at the Milk junket here in L.A. Maybe 10. Totally avoided the subject, which seemed to slightly unravel the guy. I insisted on a pecker report! "It was...fine," Franco finally answered, with a tiny smile.
Luna described the setup for his big sex scene with Penn. He said he told Sean that he had "some stupid idea about his character wanting to be hurt."
Penn's response? "OK!" Typical male. All pounce, no finesse. No wonder it didn't work out with Robin.
More importantly, Milk's a fantastically important flick at a most opportune time. Of course, it's all about Milk, the country's first openly gay politician (who was assassinated in 1978), and how he fought propositions that banned gay rights. Sound familiar?
Costar Josh Brolin thought it did, and he certainly has something to say about the Mormon and black communities, which helped pass Prop 8. Pissy stuff from him later.