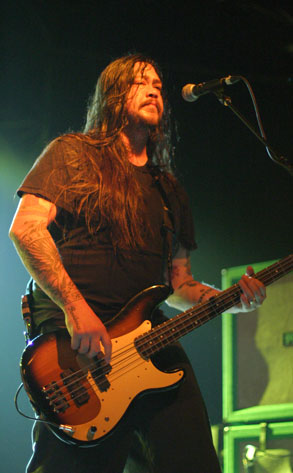 Soren McCarty/Getty Images
Deftones bassist Chi Cheng is in a coma with serious injuries after being involved in a car accident Tuesday in Santa Clara, Calif.
Frontman Chino Moreno writes on the band's website that Cheng remains in "serious but stable" condition following the wreck, but declines to give further details.
"I am on my way up North right now to be by his side along with the rest of our band mates and family," he says in a blog post. "Chi is one of the strongest people I know, and I'm praying that his strength will get him through this. Please say a prayer for him as well."
The singer later told the Sacramento Bee newspaper that his 38-year-old mate was in a coma in a San Jose Hospital.
The Deftones formed in 1988 and constant touring and songs featured on the soundtrack to the movie The Crow: City of Angels helped their debut album, Adrenaline, find a wide audience upon its release in 1995. The Sacramento-based rockers plan to release their next disc, Eros, in early 2009.