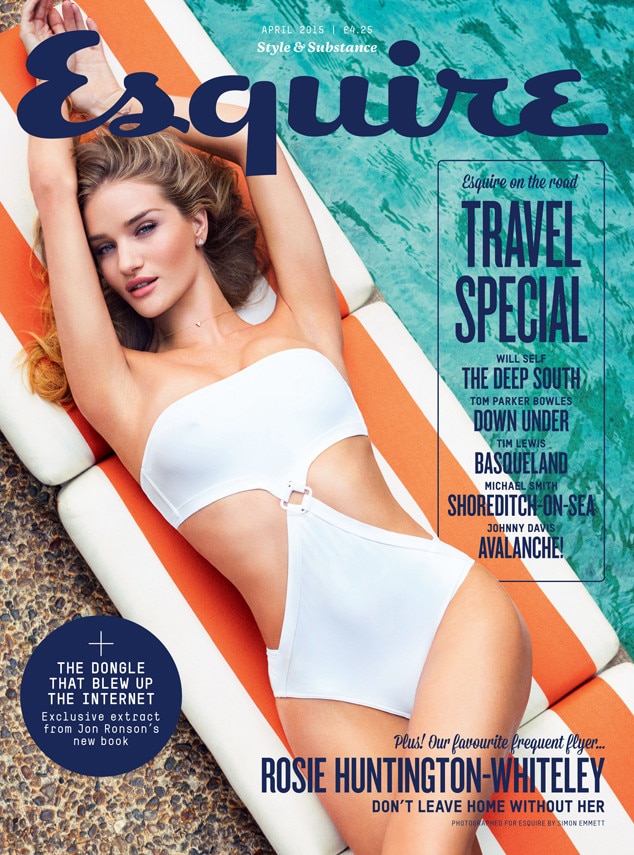 Courtesy Simon Emmett/Esquire
Rosie Huntington-Whiteley was recently named Model of the Year for a reason.
The 27-year-old beauty graces the cover of Esquire U.K.'s April travel issue and models a series of skimpy swimsuits for the accompanying pictorial. Though she's an industry veteran now, having worked with brands like Burberry, Coca-Cola Life, Marks & Spencer and Victoria's Secret, she has never forgotten her roots.
"I was the country kid who wanted to go to the city. As soon as I hit my teens, and I started to get inspired by fashion and culture and travel, I wanted the cosmopolitan life and the opportunities you could only get if you lived in London," says Huntington-Whiteley, who stars alongside Charlize Theron in Mad Max: Fury Road. "I wanted to be in a city that was glamorous, that was sexy, that was dangerous."
Huntington-Whiteley currently lives in the U.S. with boyfriend Jason Statham.
"I've lived out of the country since I was 18 but I do feel inherently British," the supermodel tells Esquire U.K. "Even though I live in L.A., a big bulk of my work is in England and so I feel really cemented here."