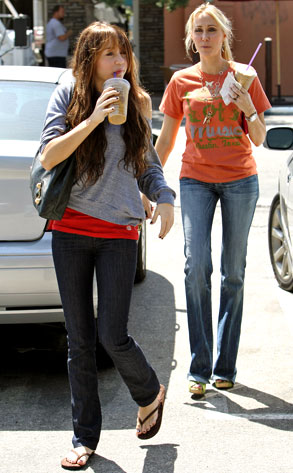 BAUER-GRIFFIN.COM
• Drew Barrymore and Justin Long are named "most hands on" couple for being the celebs most often photographed touching and/or kissing each other in public. Miley and Coffee Bean iced mochas were totally robbed.

• Anne Hathaway's boyfriend gets thrown in the slammer for bouncing $250,000 check. We would be thrown in a mental institution for even writing a $250,000 check.

• National Enquirer is totally hot for Jennifer Aniston's uterus. The mag claims Jen suffered a miscarriage during her marriage to Brad. Forget movies, Jen. You could make a killing with a pay-per-view fallopian cam. Just a thought...
• Lauren "L.C." Conrad won't endorse a candidate. And we won't ever get back the 15 seconds it took to type that sentence.

• This John-Mayer-made-out-with-Perez-Hilton story just won't die. We find it a bit far-fetched, but John, if you are into celebrity gossip bloggers, we're listed!