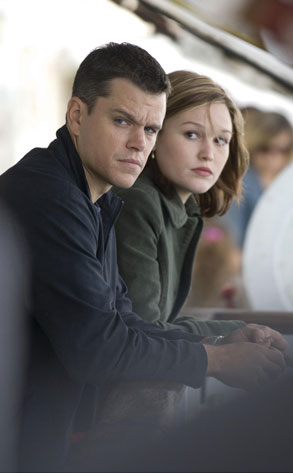 Jasin Boland/Universal Pictures
The Bourne Ultimatum broke records for the franchise this weekend—and for all-time August openings! And while I didn't hit the number the way I would have liked to, at least it wasn't like my Simpsons disaster last week. Baby steps, folks. It's easy to review the films—predicting box-office results is an entirely different task.
Case in point, I've gotten a wide range of predictions from Lyons Den readers, which range from dead-on to the most absurd guesses this side of the 405. Let's all try to nail it this week for round three and Rush Hour 3.
Speaking of which, Jackie Chan is one of those rare celebrities who's earned every cent he's ever made. By doing his own stunts, he raised the bar for an entire generation of action-comedy stars, becoming the highest-paid martial-arts actor of all time. Have you seen Jackie's classics? Dig deeper than the Rush Hour flicks and those corny westerns with Owen Wilson and watch films like Drunken Master, Police Story and Armor of God. Once you see these, you'll have a newfound respect for Inspector Lee.