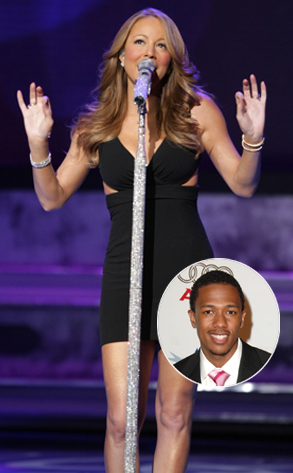 Frank Micelotta/FOX, Steve Granitz/WireImage.com
What is going on with Mariah Carey and Nick Cannon?
They were reportedly getting cozy in Las Vegas this past weekend, and now I just spotted the two of them together at the Beverly Hills Hotel!
The pair were sitting in the backseat of a very large black Bentley stopped at the entrance of the hotel, which was preventing other cars from coming and going. Not sure what the deal was, but the two stayed put as a couple of gals from their entourage kept getting in and out of the car.
Carey, 39, and Cannon, 27, never left the luxury sedan and were finally whisked away by their driver around 8:30 p.m.
The songbird performed earlier on the night on American Idol. None of my sources saw Cannon at Idol, so it's unclear if he was there.
People magazine reported earlier this week that Carey and Cannon hung out in Vegas on Monday night after taking a private jet to Sin City together. They appeared quite friendly at Privé at Planet Hollywood, where Nick was deejaying.
The two met in March, when Cannon made a cameo in one of her music videos.