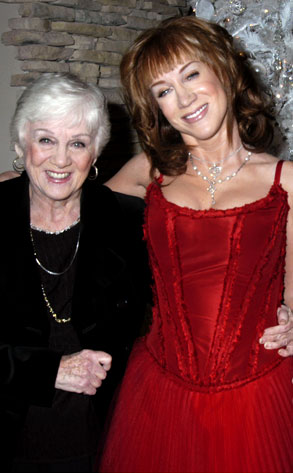 Barry King/WireImage.com
Kathy Griffin's got some major competition for her gays—from her mom, Maggie!
I ran into the funnylady last night at Tango Grill in West Hollywood. Griffin and her mother were there filming My Life on the D-List. It was the Griffins and a gaggle of gay guys for dinner.
"This is a bitter pill to swallow, but my gays are beginning to like my mom more than me," Griffin told me. "They recognize her everywhere. They stop her on the street." (A friend of mine attests to that. He says he sees Maggie being cooed over frequently at the Pavilion's supermarket located smack in the middle of L.A.'s gay neighborhood, West Hollywood.)
And to drive the point home, last night's filming included Griffin being completely ignored as she and her mom walked over to their table. The gays immediately flocked to—and fawned over—Maggie.
Yes, the diss was all in jest. Griffin and her mama eventually joined the boys at the table for some din-din.
When I suggested that Maggie have her own reality show, Griffin told me to zip it. She cracked, "Don't give her any ideas!"