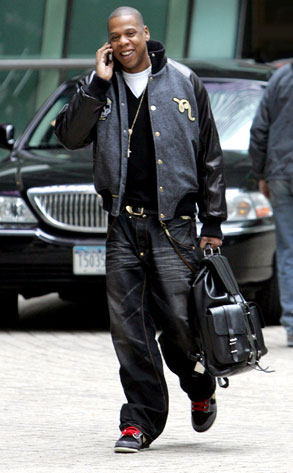 Daniel/INFphoto.com
Jay-Z likes to keep the people guessing...and us gossips talking.
After his hush-hush wedding to Beyoncé on Friday night, the rapper was spotted sans wedding ring at a performance in North Carolina on Saturday, and again in New York City on Monday. Forget the wedding bling, though—it doesn't look like a honeymoon is in the cards for the newlyweds anytime soon.
On his night off from touring with Mary J. Blige, Jay-Z spent his free time with the boys instead of with B. According to OK! magazine, he hit the 40/40 Club in Manhattan to watch the NCAA championship game Monday night. An onlooker said it was too dark to tell if his wedding ring was on or off, but reported that he was in a great mood.
If we'd just gotten hitched and our hubby was already opting to watch sports with his buddies before we'd even had a honeymoon, we'd be less than pleased. But maybe we're too high maintenance.
Should B and J have waited to tie the knot until they had time off? Weigh in with your marital MO in the comments below...