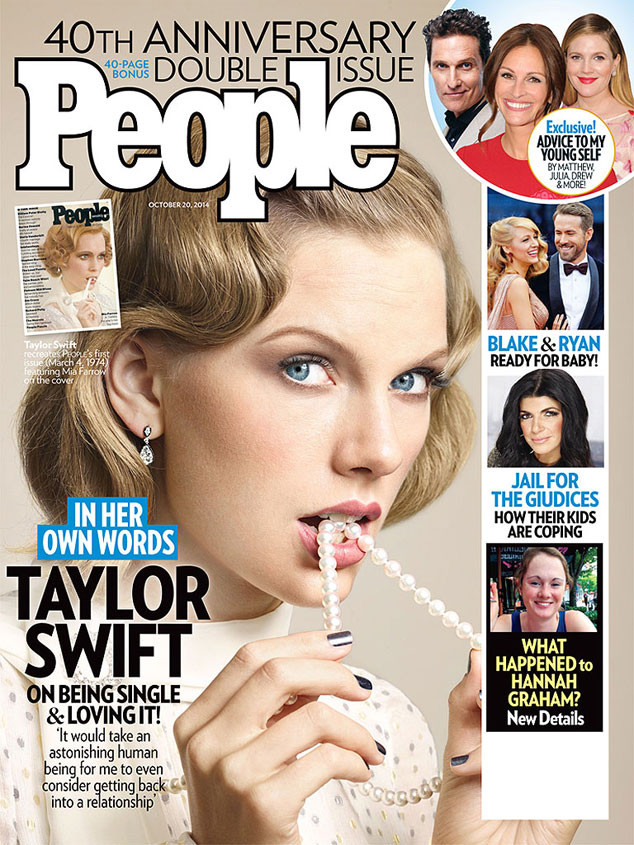 People
"I used to be fascinated by romance," Taylor Swift says. "Now I'm more realistic."
Indeed she is. After enduring high-profile breakups with Joe Jonas, Conor Kennedy, Taylor Lautner, John Mayer and Harry Styles (to name a few), the "Shake It Off" singer, 24, has sworn off men for now.
"The last couple of years have been about defining life on my own terms," the pop star explains in People's 40th anniversary issue. "Being on my own, prioritizing my girlfriends, my family and my music above everything else and trying things I never thought I'd try. It's a really liberating and freeing time."
Swift's new music is a reflection of her current state. "Emotionally speaking, 1989 is not a heartbreak record. My music is derived from what's happening in my personal life, and I haven't had my heart broke," the singer-songwriter tells the magazine. "You're not going to her, oh, like, 'boyfriend dissing.'"
That's good news for Styles, Swift's most recent ex-boyfriend. "When I'm deeply hurt, I usually respond by writing exactly how I feel in a song, but I just haven't been devastated in the last couple of years," the former country singer explains. "I made the decision to spend time on my own and figure out who I am."