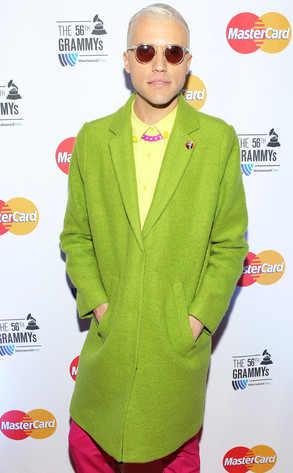 Mike Windle/Getty Images for MasterCard
Neon Trees' Tyler Glenn is an out and proud gay man.
The "Sleeping With a Friend" singer came out to friends and family last fall, and he decided to share the news publicly with Rolling Stone. "I've always felt like I'm an open book, and yet obviously I haven't been completely," the 30-year-old musician tells the magazine, which hits stands March 28.
Glenn says he's known he was gay since childhood, but kept his sexuality a secret. "I had my crushes on guys throughout high school, but it was never an overwhelming thing until my twenties," he admits. "Then I'd be dating girls and in love with my straight friend and it was the worst feeling in the world."
Raised Mormon, Glenn was conflicted about his sexuality. "We were always taught, and I hate this word, 'tolerance,'" he says, regarding his church's stance on homosexuality. "The only time that felt different was when the Prop 8 thing came up," he says, referring to when the Church of Jesus Christ of Latter-day Saints spent an estimated $22 million fighting same-sex marriage in California in 2008.
Seeing others come out publicly in recent months inspired Glenn to do the same, Rolling Stone notes. "I really love all of the sports figures that are coming out recently," the singer says before referencing a potential NFL recruit. "I appreciated [that] Michael Sam was like, 'I want to be able to go to the movies and hold hands with my boyfriend.' Even hearing him say 'boyfriend,' I was just like, 'That's cool.'"