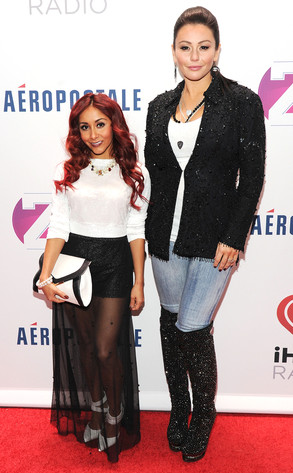 Bryan Bedder/Getty Images for Clear Channel
Jenni "JWoww" Farley is getting some mommy advice from her best pal Snooki.
The reality star, who announced she is expecting her first baby with fiancé Roger Mathews on Christmas, shared an amusing Instagram snapshot of a text message exchange with her BFF.
"Lorenzo was and is perfect," JWoww says about Snooki's adorable 1-year-old little boy.
"So will urs," Snooki responds. "Sleep safe, keep hydrated, no Advil or Aleve" she advises JWoww. "No pushing on the toilet either." she adds.
"Yes mom!" JWoww jokes.
We see lots of fun playdates with these kids in the future!