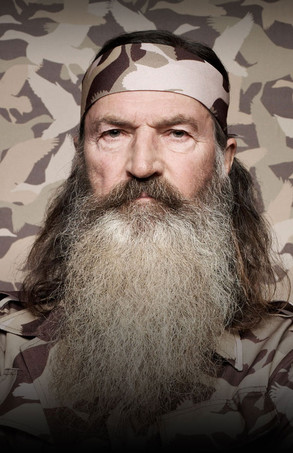 A&E
Those who aren't outraged by Phil Robertson's recent anti-gay remarks, are outraged at those who are outraged. Make sense?
To put it simply, supporters of the Duck Dynasty patriarch have put together a petition urging A&E to lift Robertson's suspension from the hit reality show. Oh, and they want the network to say sorry, too.
The petition, drafted by National Organization for Marriage president Brian Brown, begins by addressing the reader (aka "marriage supporter") that, "The gay lobby bullies are at it again. This time they've attacked one of the most popular Christians in America—Phil Robertson, patriarch of Duck Dynasty's Robertson family."
Brown continues, "They are calling him 'vile' and say he is pushing 'extreme stereotypes' and 'lies.' The grossly misnamed Human Rights Campaign (HRC) and their Hollywood ally GLAAD have demanded that Phil be punished and, incredibly, Wednesday night A&E succumbed to the gay bullies and suspended Phil Robertson!"