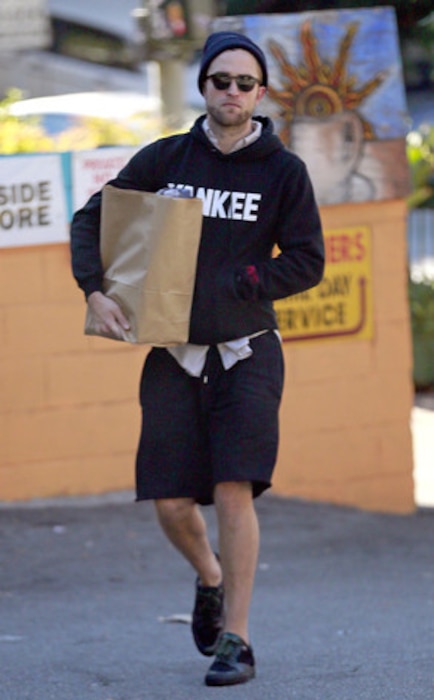 Bruja/Juan Sharma, PacificCoastNews.com
Robert Pattinson gets groceries just like the rest of us.
Fresh off his reunion with ex-girlfriend Kristen Stewart last week, the Twilight hunk was spotted on Tuesday, Nov. 5, carrying a brown paper bag to his car after some shopping in Los Angeles.
The 27-year-old English heartthrob looked rather serious, sporting a Yankee sweatshirt, shorts, black sneakers, a beanie and sunglasses.
This sighting of the Cosmopolis star comes after E! News exclusively learned that the famous exes spent time together in Los Angeles on Wednesday, Oct. 30.
The duo was spotted leaving their meet-up spot in their respective vehicles, Rob in his Jeep following Kristen in her blue Toyota pickup truck. And their reunion may have continued until they got wind of the paparazzi on their trail—an apparent change of plans that K.Stew looked none too happy about.