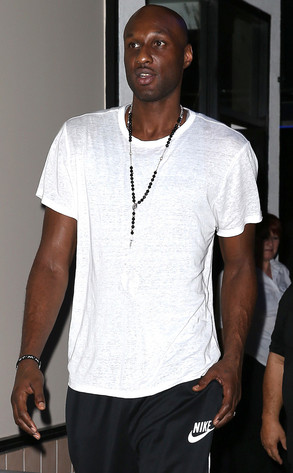 GEVA/AKM-GSI
Sober living agrees with Lamar Odom. The 33-year-old basketball player spent four hours bonding with friends at Gavar Cuisine in Glendale, Calif., on Tuesday, Oct. 15. Wearing his wedding ring, a white tee and Nike sweatpants, Odom seemed to be in great spirits while dining at the Armenian restaurant.
"Lamar looked very happy and had a huge smile on his face," a source tells E! News exclusively, noting that the free agent "looked skinny but not unhealthy."
Odom and his pals dined outside the restaurant in a cabana-style room. Gavar Cuisine primarily features moderately priced lamb, chicken, seafood and beef dishes, as well as an array of salads, soups and appetizers. "The staff was extremely attentive to his party," the source says.