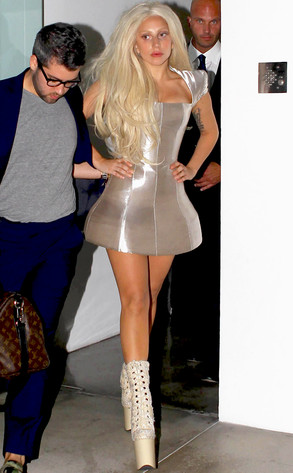 FAMEFLYNET PICTURES
Could it be?
Has new music from Lady Gaga's forthcoming album ARTPOP leaked its way onto theIinternet? According to reports, a snippet has surfaced of the pop princess singing about burqas. This comes a few months after an instrumental song, supposedly titled "Burqas," was leaked online as well. The techno-heavy snippet features Mother Monster calling the Islamic outer-garment "religious risky fashion."
According to BuzzFeed, the lyrics include, "Wear it out, harmonize, stability / Put it on, conceal your hair / Disturb the unaware / Bitch, I've been on the cover of Vanity Fair." Gaga, who's already experienced a career of envelope-pushing moments, sings in the chorus, "Burqa, burqa, burqa / Let's get erotic."
The singer has been extremely quiet about her upcoming music but made a major announcement last week.