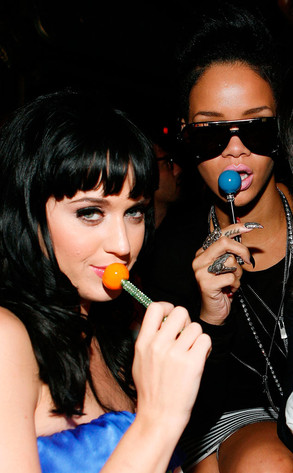 Courtesy: Amy Sussman/Getty Images
A candy empire is taking over the world.
No, it's not part of a voice-over for a summer blockbuster trailer. It's the news out of Bahrain that celebrity-favorite confectionery Sugar Factory, in conjunction with the Bahrain-based brand Haute Cupcakes, has announced it will expand abroad to the Middle East. The first international location, in the Ritz-Carlton, is scheduled to open in early summer.

The Bahrain Sugar Factory will offer treats like bulk candy and baked goods by Haute Cupcakes, milk shakes with names like "the Barbie" and "Chocolate Cookie Jar," and retail merch. Plus, it will feature the "Couture Pops"—lollies with crystal-studded sticks meant as accessories—we've seen pictured in the (presumably kinda sticky) hands of stars like Britney Spears, Nicki Minaj, Katy Perry, Rihanna and Charlie Sheen.