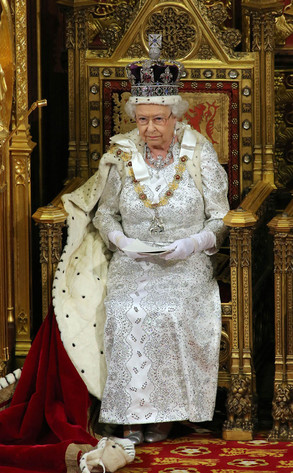 Jon Bond - WPA Pool/Getty Images
Queen Elizabeth II had to leave the hoodie at home today.
To honor the State Opening of Parliament, Her Majesty was decked out in the finest royal regalia. From a crown with 3,000 gems to her 18-foot robe, the Queen's look today seemed right out of an Oscar-winning movie.
She wore the white Angela Kelly dress from her Jubilee portrait, and made a crown switcheroo after taking the throne. The Queen was accompanied by Prince Philip in his Royal Navy Uniform, and unveiled 20 bills that the coalition hopes to pass into law in the next year.