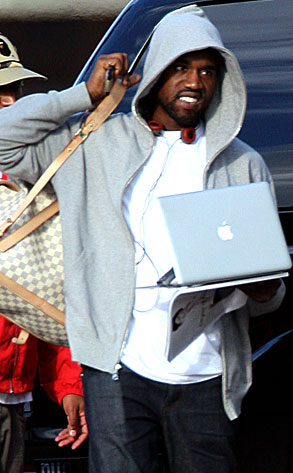 Tom Vickers / Splash News
Kanye West is in Hawaii now, maybe working, maybe relaxing on some beach. Either way, he's got his trusty Mac with him—not to mention the same hoodie he was sporting yesterday—and he seems to be gearing up to write the blog post to end all blog posts.
But since we haven't heard from him yet, we can still only speculate as to what prompted his showdown with the paparazzi Thursday morning at Los Angeles International Airport.
The cops, for one, sure don't know.
"I have no idea," Sgt. Jim Holcomb of the L.A. Police Department's Airport Division told E! News Friday when asked what provoked the incident. "I didn't know who he [Kanye] was until the day this happened."