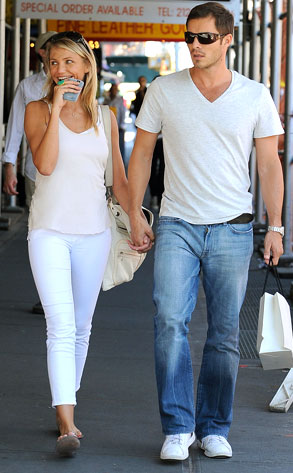 Humberto Carreno/startraksphoto.com
• If the hand-holding and BlackBerry biting mean anything, it's that Cameron Diaz has officially gone public with Jennifer Aniston's ex Paul Sculfor. Congrats, guys, enjoy it while it lasts.
• Before Lindsay Lohan chimed in and before all the baby stuff went down, Diddy expressed his disapproval over Sarah Palin because he's pretty sure there are no black people or crackheads in Alaska. Also, he's calling himself Ciroc Obama now.
• Just when we were finally getting over the Miley Cyrus-Nick Jonas broken love affair, "7 Things" director Brett Ratnerhad to go and open old wounds. Not cool, dude—a curse on your VMA nomination.
• Crazy-weird story of the day: Gossip Girl's Leighton Meester was born in a prison. Whatevs, doesn't mean that Blair Waldorf isn't way awesome and totally meant for Chuck Bass.