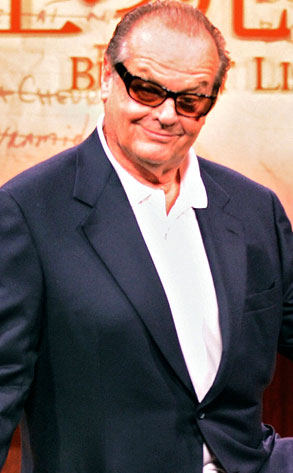 TORU YAMANAKA/AFP/Getty Images
Gosh, wonder what Oscar-winning womanizer Jack Nicholson's big holiday plans were? Did he try to lure Lara back yet one more ridiculously insane time? Hardly. She's moved on, stunningly. Maybe that's because she no longer pulls such silliness as bleaching her bum-hole? Yeah, let's leave that kinda kink to Jacky-baby, who hit the Home Depot in North Hollywood for his big weekend celebration.
Yeah, while Britney, who sure knows a thang or three about naked naughtiness, checked into a Vegas villa for old-school vamping, Jack fondled pipes, joints and spigots like he was caressing one of his young bedroom candidate's bottom, so says a Valley snake-witness.
Dude was in sunglasses, as if that was going to keep anyone from noticing what his plumber's crack was up to. And sure, maybe the toilet was backed up on Mulholland Drive, but, girlfriends, let's get clear: J.N. doesn't do anything he doesn't want to, and certainly nada that doesn't put a smile on his old puss. Why so lovin' the phallic-shaped stuff, Jacks?