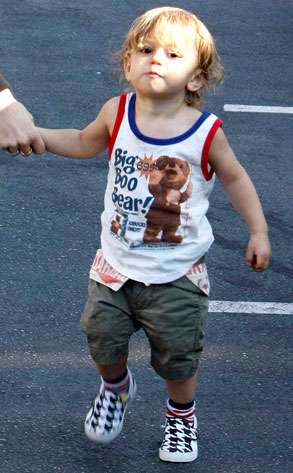 INFphoto.com
In honor of all the kids going back to school today, we're taking a guess at what the future holds for some of our favorite celebrity offspring. And we start with Kingston Rossdale.
Kingston has always been a badass. Mom might be choosing his clothes at the moment, but like her, he makes the style his own. Plus, with his air of "whatevs" under the paps' lens, we can tell he's just itching to break from the constraints of nap time and sippy cups so he can follow his own cues.
Imagine the musical talents and tastes of Mark Ronson and DJ AM combined with mama Gwen's eye for the original…in a teenager. That's right. We're guessing big. Before we know it, we're sure Kingston will be 15 and the first-call DJ for every hot party on the planet—from Dolce & Gabbana bashes to Vegas club openings. And he'll still manage to be home by curfew.
Have a guess of your own on what's in store for this A-list tot? Sound off below!