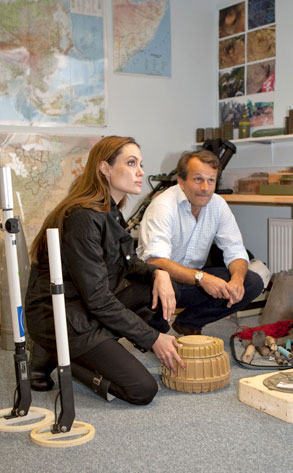 Fiona Willoughby/HALO
Not surprisingly, Angelina Jolie and Brad Pitt are, once again, taking time out for others.
Certainly no stranger to good deeds, Jolie stopped by the global headquarters of the HALO Trust (halotrust.org) in Scotland over the weekend to meet with the organization's cofounder and director, Guy Willoughby.
The two discussed the group's ongoing efforts to remove hazardous debris such as landmines from places like Cambodia, Sri Lanka, Mozambique, Kosovo and Afghanistan.
Meanwhile, a soccer team in Glasgow no doubt got a, um, kick out of meeting Angie's significant other...