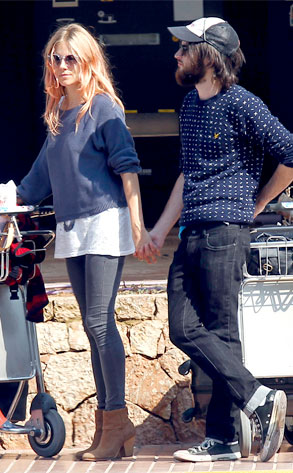 Chroma Press / Splash News
Sienna Miller doesn't appear to be drinking the Kool-Aid...but she may be dying her hair with it!
Perhaps not wanting Kate Bosworth and Katy Perry to be the only fashion plates in the celebrity realm to be rocking Easter egg-inspired hair right now, the trendsetting Brit has added some splashes of pink to her blond mane.
There doesn't appear to be much rhyme or reason to where the color was applied—a little here, a little there—but it certainly matches the slap-dash ensemble she donned to jet to Ibiza with beau Tom Sturridge.
Speaking of which, Sturridge's beard is looking a little monochromatic to us. Why not add a shock of purple around the chin, or a rosy streak to match his lady's?