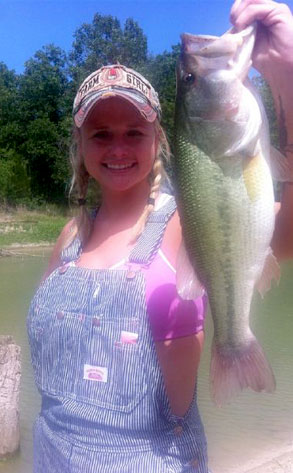 Twitter
Well, what do you expect from the country-strong singer who harvested her own deer cutlets before her wedding?
Miranda Lambert, steeped in "honeymoon bliss," offered a few updates via Twitter today, including this photo of her hoisting (by its mouth, natch) her catch of the day during what presumably was a romantic bass-fishing trip for two.
And it sounds like she and hubby Blake Shelton, who tied the knot on Saturday, have all the amenities they need right at hand.
"Rewriting a Blake Shelton song: 'It's all about the ice! Now that we got us a machine we don't need to go to town...." Lambert tweeted before the fishing trip, a play on "It's All About Tonight."
But really, what she wrote yesterday says it all: "Mrs Shelton here! Winning!!!!!"