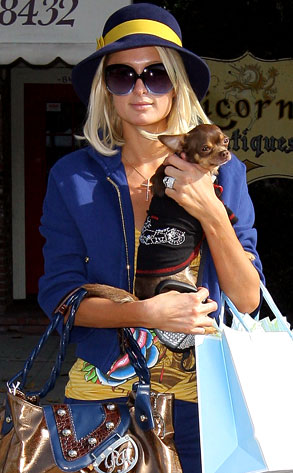 Gaz Shirley, PacificCoastNews.com
Well, it certainly seemed plausible, given Paris Hilton's track record with pets.
Nevertheless, the heiress is now barking back at recent reports claiming she was prevented from purchasing a pooch.
"I was catching up on news last week, only to read a story about me walking by some puppies for sale and demanding that I be given a Yorkie puppy to be an accessory for a photo shoot," Paris wrote Monday on her MySpace blog.
"I wasn't looking for a new pet. I wasn't even at a photo shoot that day," she clarifies, before quickly pointing out: "Puppies are not accessories or toys."
So then Tinkerbell is just a guard dog. Got it.