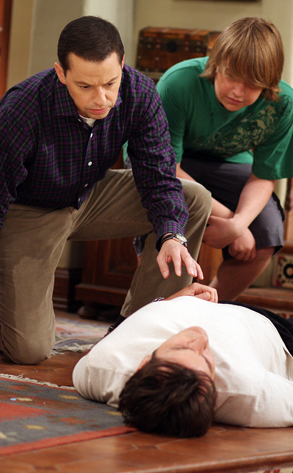 GREG GAYNE/WARNER BROS.
The executive producer and cocreator of Two and a Half Men, Chuck Lorre, is speaking out again about his wayward star, Charlie Sheen, via the unique medium of the vanity card.
Following last night's airings of two Chuck Lorre-produced shows (Men and Mike & Molly), vanity cards penned by Lorre appeared onscreen, the first of which explicitly addressed the Charlie Sheen chaos vortex , and the second of which seemed to refer to Sheen's troubles without mentioning him by name.
However, there was no castigating, no chastizing and no shaming in these statements, nor was there an intervention-style supplication begging the star to get help. Find out for yourself what Lorre said, and decide if you think Lorre might be deflecting the situation a bit: