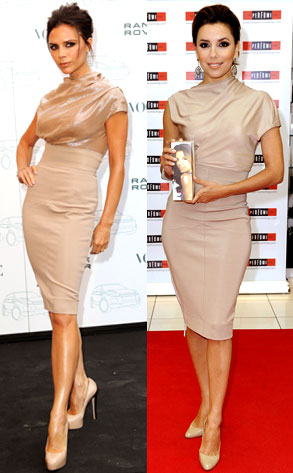 Mike Marsland/WireImage; Matt Crossick/AP Images
This fashion fight is gonna be fierce.
Not only is it a battle between good friends Victoria Beckham and Eva Longoria Parker, but the fashion in question is also a design from Posh's eponymous collection.
The former Spice Girl wore her nude, superslim dress with matching platform pumps and messy updo to Range Rover's 40th anniversary bash back in July—and showed it off with her signature pose, natch.
Eva, who's frequently spotted in Victoria Beckham Collection dresses, rocked a nonshiny version of the frock this weekend at the launch of her new fragrance, Eva, in London. She also picked matching shoes and a similar updo.
Who wears it better, the designing babe or her supportive friend?