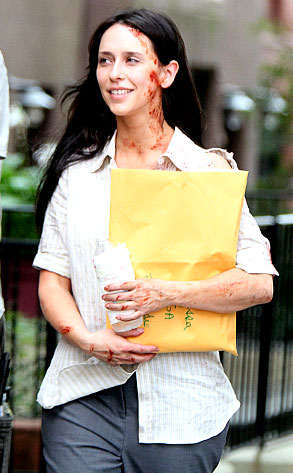 Roger Wong/INFhoto.com
When we saw this pic of Jennifer Love Hewitt, our first thought was that her vajazzling had just gone horribly wrong.
Thankfully, we were quickly informed that the whole bloody mess was merely a bit of makeup magic. The actress shot a guest appearance in NYC on Monday for an upcoming episode of Law & Order: Special Victims Unit.
Despite the recent cancellation of her series Ghost Whisperer, the 31-year-old is keeping busy. This stint comes on the heels of her made-for-TV movie The Client List.
Obviously, there's still a lotta love for Love. Even if it means she has to look a little worse for wear.