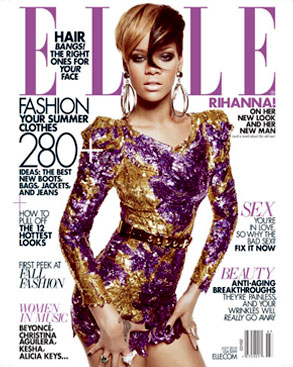 Tom Munro / Elle
Rihanna not only graces the cover of the July issue of Elle, she has a few things to say about the glamorous—and often unattainable—ideals of beau monde.
"I respect designers who aren't afraid to go outside the box," she tells the magazine. "I went to a Jean Paul Gaultier show, and I saw girls who are thicker than me, beautiful and voluptuous and different ethnicities. That made me so excited. I thought, Okay, I can work that, for sure."
Of course, the Barbadian beauty is leaving her mark on the couture world, as well. "It's clear there are definitely fewer black women in the high-fashion industry. One of the things I respected most about Gucci was that they did a print campaign with me. I'm a black girl on a fashion spread for Gucci—that was a big deal."