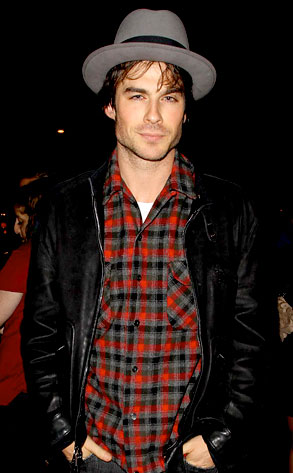 Anthony, PacificCoastNews.com
Dear Ted:
A few days ago you said there's a diva on the set of the Vampire Diaries—tell me it ain't Ian. I found him adorable and sweet (no need to say incredibly hot!) He cares about the environment and he loves animals as much as we do! Besides, he wouldn't have problems with photographers at parties, he's been taking lots of pictures and he doesn't look annoyed in any of them. Tell me it ain't Ian, please
—Mariana
Dear Say It Ain't So:
Our Vamp Diaries diva has kind of become a Bitch-Back Blind Vice of sorts, huh? But rest assured, it's not Ian. Gotta say, kudos to this show for having such dedicated fans—you think it could rival the Twi­ phenomenon? Probably not, but those vamps sure do get people riled up!
Dear Ted:
I was absolutely delighted to hear today's confirmation that our girl Sandy will be on hand to receive her MTV Movie Award. Now I've loved her for some time, and think she deserves the best. Could you give just a small clue as to what her B.V. is?
—J
Dear All-American Detective:
No, no and no! Sandy's had enough trouble lately, not gonna stir up the naughtiness any more with her right now—her schmuck ex has done plenty of that for now. Check back in a few months, 'kay?
Dear Ted:
Just two Robsten questions. One, why was Michael Angarano never interviewed about Rob and Kristen? I mean, I think she told him that Rob was the reason she left him. Second. What was the deal with Rob and Nikki, was it serious? Was she more into him than he? When did it happen exactly? BTW proud mama of a rescue dog called Scottie.
—Y