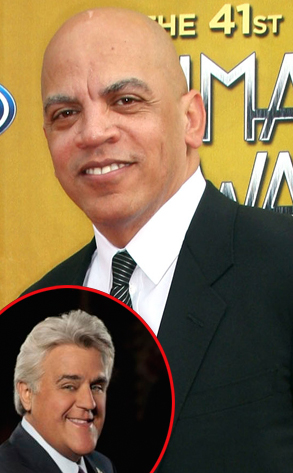 Frederick M. Brown/Getty Images; NBC Photo: Mitchell Haaseth
Kevin Eubanks, you...are...out. Rickey Minor, you...are...safe.
American's Idol's resident music director has been tapped to replace the outgoing Tonight Show band leader, and will take up the dual mantle of playing late-night audiences in and out of commercials while laughing maniacally at every other syllable to come out of Jay Leno's mouth.
He steps in officially on June 7, well after his Idol duties come to an end this season. While Eubanks hinted earlier this year that he was on Team CoCo had outgrown his time as Leno's sidekick, he only took to the late-night couch this week to officially announce his departure.
"After 18 years of playing America in to commercials, I'm gonna go somewhere I can finish a song," he said.
Eubanks plays himself out for the last time on May 28.