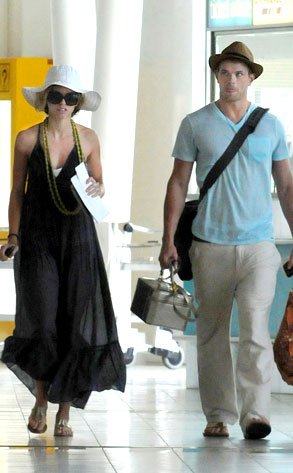 Pictorica/Izzy/NPG.com
Dear Ted:
What is up with celebs pretending they're not dating when they so clearly are? Like Kellan Lutz and AnnaLynne McCord, for example. Not even Robsten are seen kissing in public and getting cozy on the beach. Why don't they just admit it? It seems to me like it'd blow over a lot quicker if they did!
—Alishe
Dear Hype:
Maybe they don't want it to blow over. They love the media chatter more than Rob and Kristen, trust. Kellan and AnnaLynne had quite the vacay recently, and the paparazzi were most definitely invited. Now we'd love to see Robsten on a similar getaway!
Dear Ted:
You've been very nice in answering my questions so here's another! I read a little "quote," supposedly from Rob Pattinson's Aunt Diana saying he has quit speaking to quite a few of his relatives, "froze them out" is what she said. Also that they no longer have Christmas get-togethers (he could be in another country?) and birthdays are ignored. She says that fame has gone to Rob's head, and she had no idea in the world that he could ever act like this. Your thoughts, please?
—Sunnie
Dear Family Drama:
Aunt Diana is not exactly the most credible source—in 2009, she said she didn't think it would be wise for Rob and Kristen to date, and now she is saying how they are totally in love...doesn't seem like she is the most dialed-in babe. Plus,if you were Rob with an "Aunt Diana," wouldn't you freeze the chatterbox out, too?
Dear Ted:
People are crazy with this Miam stuff. She never looks happy with him, but with Nick she was always glowing. All this wedding stuff is so dumb, don't you think? I don't believe it. Clearly, Miley and Nick are destined. Why would she buy a house closer to Nick if she was going to marry some other guy? Come on, Miley is not that cold. It's time for Miley and Nick to get back together, don't you agree?
—Jonas Girl