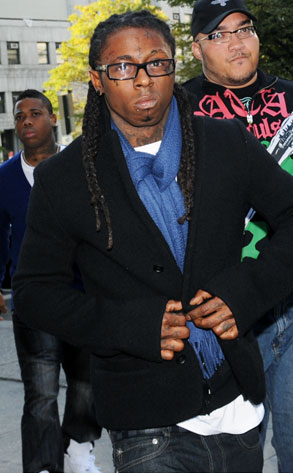 AP Photo/Louis Lanzano
Lil Wayne may be in prison, but we hope his maximum-security digs come with antivirus software.
The rapper, who checked into Rikers Island on March 8, has launched a weekly blog for his fans, complete with a countdown clock. Not only does Weezy thank you, but WeezyThanxYou.com.
"During my prison stint, I want my fans to know I love you," he writes. "I want all of you to know that I appreciate all the mail I get, and this is my way of saying thank you...Trying to tear down the past prohibits you from building up your future. So for my time here, my physical will be confined to the yard. My love and my spirit, however, know no boundaries."
He promises he's doing well and thinks of his kids often. He works out, he reads the Bible and he claims he's going to be blogging for ESPN soon as well. He doesn't mention exactly how he'll be watching the games he'd presumably be writing about, but that's just a minor detail.