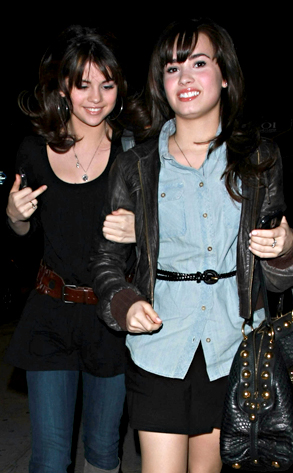 INFphoto.com
Dear Ted:
Selena Gomez and Demi Lovato are no longer BFFs, according to Demi in a Q&A session with her fans, via Twitter. What happened?
—K
Dear So Dunzo:
Maybe Selena got as annoyed as us hearing Demi gush about Joe Jonas all the time and finally kicked her to the curb. Or maybe, like most Disney BFFships, their fight for top darling (now that Miley is trying to ditch her mouse ears) got between the previously tight twosome. We hear the former more than the latter.
Dear Ted:
OK, so what's up with Taylor Lautner and Taylor Swift going to lunch together with their publicist—and not to mention the day after she hangs with Cory! Please tell me they were just talking about an upcoming project!
—S
Dear Lunch Date:
Ugh, please tell me they're not dishing on an upcoming project. I don't know what would be worse—T.L. joining T.S. in a duet for the Breaking Dawn soundtrack or an über-awkward sequel to Valentine's Day. Seems the duo were just catching up—no need to worry about a T2 reconciliation. At all.
Dear Ted:
My neighbor and I trap feral cats in our neighborhood (we rerelease the adults after neutering them and take the kittens to a no-kill shelter). I also have three rescued cats. Can you expose Sandra Bullock's B.V.?
—Peg