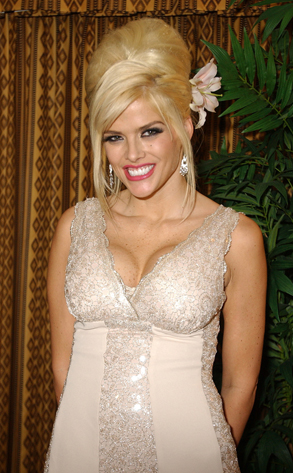 Denise Truscello/WireImage.com
UPDATE: Attorneys for Smith's estate filed court documents April 8 asking the court to review its decision, arguing that its ruling conflicts with legal precedent. The case could potentially go to the U.S. Supreme Court again if the 9th Circuit refuses to review or reverse its decision.
________________________________
Poor Dannielynn. Literally.
A federal appeals court said today that the estate of Anna Nicole Smith is not entitled to the $300 million-plus judgment previously awarded from her late oil tycoon hubby's billion-dollar estate.
The ruling by a three-judge panel could end a court battle that dates back to 1995—shortly after J. Howard Marshall II died and Smith sued son Pierce Marshall for half of his father's $1.6 billion. She eventually won $449 million, which was eventually reduced on appeal, and the case raged on even when the younger Marshall died in 2006 and Smith fell victim to a drug overdose the following year.
"After millions of dollars of legal fees, having Pierce dragged through the mud, at least we now know that he was right and they were wrong," Marshall family attorney Rusty Hardin told E! News.