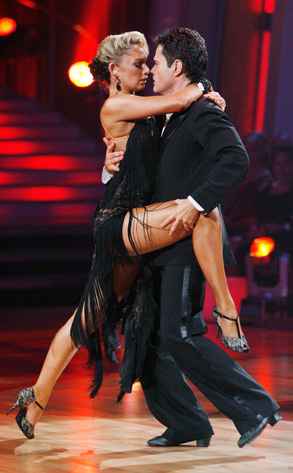 ABC/ADAM LARKEY
UPDATE: Kym's agent, Mark Measures, disputes any notion of a money fight, telling E! News that while the former champ won't be appearing on this cycle, she "has a contract with the show that is absolutely valid and binding. You'll probably even see her dance in the results shows." He also claims they "never know cycle-to-cycle" whether or not she'll be needed, but they're "fully expecting her to be asked back next cycle."
________
We interrupt the countdown to tonight's Dancing With the Stars unveiling to bring you this: Kym Johnson, who won last year's contest with Donny Osmond, will not be returning to the show for season 10, E! News has exclusively learned.
"She and her agent went after more money in her contract," says a source close to the show. Producers were "not happy they played the money game, so they left her off and didn't renew her contract."