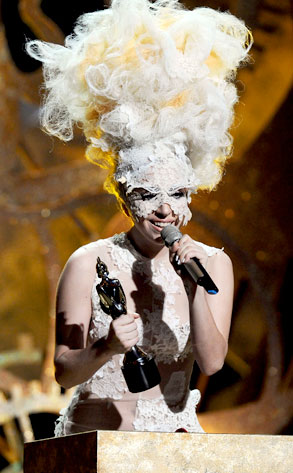 Gareth Cattermole/Getty Images
Lady Gaga left her poker face at home when it came time to pay tribute to Alexander Mcqueen.
Onstage to accept for Best International Breakthrough Act, the first of the field-leading three gongs she took home Tuesday at the Brit Awards in London, the masked chanteuse's voice was husky with emotion when she mentioned the late designer.
"Thank you to Lee McQueen," she said, using the lobster-boot-fashioning icon's real first name.
Aside from her tiered outfit and Marie-Antoinette-on-steroids wig, Lady Gaga toned down her scheduled performance of "Poker Face," going without her backup dancers for a more sedate medley of "Telephone" and "Dance in the Dark," which she dedicated to McQueen.
Not that she didn't cry a few tears of happiness, as well...