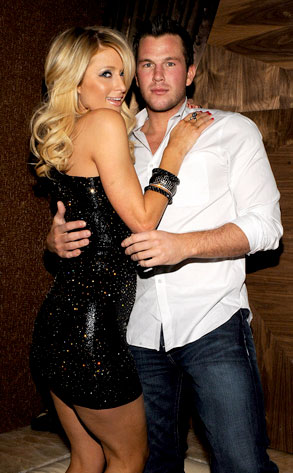 Hard Rock Hotel & Casino
Paris Hilton is about to be handcuffed again—but it's not the cops doing it this time.
The sexy heiress and her beau, Doug Reinhardt, were spotted shopping for Booty Parlor sex toys at the Love Jones boutique at Las Vegas' Hard Rock Hotel and Casino.
The duo picked up Good Girl Bad Girl leather wrist cuffs, Skin Honey, and a Tickle Me Intimacy LoveKit, which includes kissable body shimmer, a feather body duster, massage oil and lube.
"Paris and Doug were giggling, cuddling and being very flirty while they shopped for their erotic goodies," a spy says.
Hilton and Reinhardt aren't the only pretty people we spotted out and about recently. Read on for scoop on Jake Gyllenhaal, Miley Cyrus and a certain Glee star who was doing some nightclub flirting...