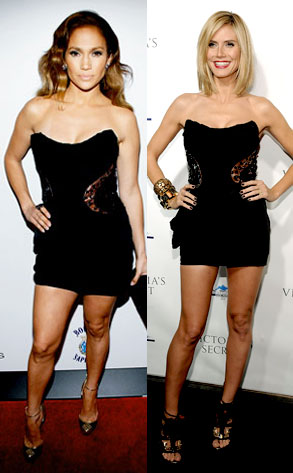 Joe Kohen/Getty Images; Dimitrios Kambouris/Getty Images
Has being a busy mom of twins made fashionista Jennifer Lopez a style slacker?
Sure, Jenny's still gorgeous, but her sense of trend timing may be off. Heidi Klum first wore this Louis Vuitton minidress to a Victoria's Secret event way back in 2008 whereas J.Lo wore it just last night to host a book party.
As for the details, Heidi accessorized with funky shoes, chunky bracelets and dark nail polish, while J.Lo kept it simple, choosing minimal jewelry and closed-toe shoes.
So which version of the little black dress do you like the best—Heidi's original outing or Jennifer's updated edition?