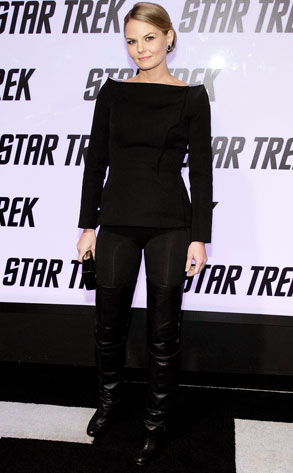 Noel Vasquez/Getty Images
• House: Fox confirms reports that Jennifer Morrison will appear on House again later this season. We asked House exec producer Katie Jacobs this weekend if J.Mo might be back any time soon, and she told us: "I can say that [Jennifer Morrison] might be back. She is doing a play. She asked if she could do this play, and she's really excited about it, and we're really excited for her...I would love to see her again, too." Mission accomplished!
• Renewals: CBS has handed season-two pickups to Julianna Margulies' The Good Wife and the hit spinoff NCIS: Los Angeles, and TNT has renewed Men of a Certain Age, the midlife-crisis dramedy starring Ray Romano, Scott Bakula and Andre Braugher, for an additional 10 episodes.
• Premiere Dates: HBO will premiere The Pacific, Tom Hanks and Steven Spielberg's follow-up to their landmark WWII European Theater miniseries Band of Brothers, on March 14. Prefer the U.S. Army to the Marine Corps? Then you'll be happy to know that Army Wives season four premieres April 11 on Lifetime.