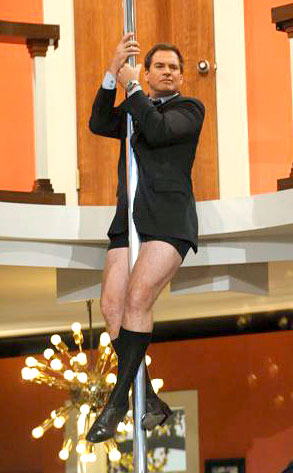 Warner Bros. / Phil McCarten
We admit NCIS star Michael Weatherly isn't exactly on our radar around here.
But when handsome guys like him pull seminaked stunts on TV, we take notice.
The 41-year-old hunskter made quite an entrance for his Bonnie Hunt Show appearance, airing today. The dude slid down her fireman's pole without any pants on!
Not that we really cared why he dropped trou, but his rep tells us, "He didn't want to get his pants dirty."
Ladies should take note—Weatherly is not available. The former Dark Angel star, who was once engaged to Jessica Alba, married his doctor wife, Bojana Jankovic, in September.