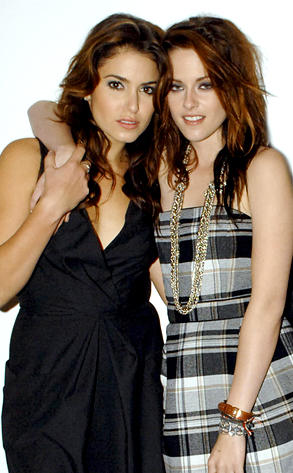 George Pimentel/Getty Images
Dear Ted:
Have you seen the video of Kristen Stewart kissing Nikki Reed? WTF? Summit is going to be pissed!
—Calley
Dear Love Triangle:
Jeez, maybe Nik was jealous of Rob then, not Kristen. Wonder if KiKi lives on?
Dear Ted:
Was Danneel Harris trying to take the heat off Jared Padalecki by plopping herself in the middle of the engagement fiasco, or was it just for attention for herself? Have you heard anything about how Jensen Ackles felt with the whole Twitter war between his fiancée and yourself? Danneel didn't deserve her own post the other day (but it was still funny as hell to read), she took the limelight away from Jared and Genevieve. We wanted Jared to have his own post. What's good for Jensen should be good for Jared, since you said they do everything together (or something), you should be the same way.
—Sass
Dear Cruel Intentions:
One thing you gotta love about Twitter is it makes you instantly accessible to people. I doubt Danneel thought her tweet over as much as you're making it out to be, sorry, doll. What is it about Jared that everyone wants me to say in an individual post to him?
Dear Ted:
Thank you for your comments about Charlie Sheen and Brooke Mueller and the lack of outrage surrounding his attack. An attack is an attack. Your comments rang out clear and true in the silent space where our horror and disgust should have been. You always point out that the emperor is butt-nekkid with flair and gusto, but your true greatness is when you ask us all what the hell did we think we were looking at, anyways? Thanks for showing us the truth, even when we're awful.
—E in Philly