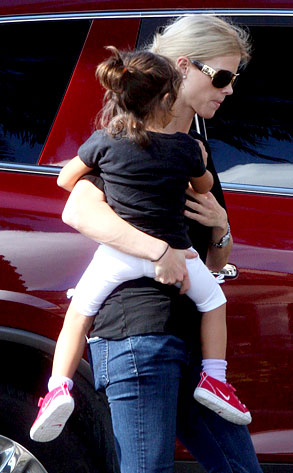 INFphoto.com
Elin Nordegren does more than pump gas without wearing her wedding ring!
Tiger Woods' wife stepped out again today without the marital symbol. This time she took children Sam Alexis, 2, and Charlie Axel, 10 months, along for the ride to Ayothaya Thai Cuisine, where they picked up takeout.
The group, which also included a bald man and a brown-haired woman, were in the shop near their Windermere, Fla., home for only 15 minutes as they ordered and waited for their food, a restaurant employee tells E! News.
As Elin loaded the kids back into the car, the Swedish beauty was hounded with tough questions regarding her marriage. She ignored them, kept a buttoned lip and went about her business like a total pro.
Hmmm...
Tiger himself remains to be seen since the infamous crash.
—Additional reporting by Whitney English and Lindsay Miller
(Originally published Dec. 15, 2009, at 12:05 p.m. PT)