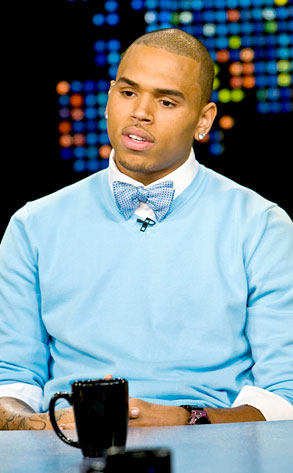 Peter "Hopper" Stone/CNN
Who needs Adam Lambert when you've got Chris Brown?
ABC announced today that it has landed an interview with the beleaguered R&B star and says that this time he really is going to come clean and talk about his assault of Rihanna.
After dodging direct questions about the infamous Grammys-eve beat-down in interviews with everyone from Larry King to Wendy Williams, the "Crawl" singer is set to divulge details of the incident in an interview with Robin Roberts on ABC's 20/20 Dec. 11.
The 20-year-old singer, whose new album Graffiti debuts Dec. 8, will only answer questions and will not perform on the show, which has already been taped.
His ABC interrogation comes just a month after Rihanna's revealing sit-down with Diane Sawyer, which aired on the Nov. 5 installment of 20/20. The 21-year-old fashionista said she was "embarrassed" that she still had feelings for Brown after the incident.
Brown is performing community service as a part of his assault sentence. The ex-couple must also steer clear of each other until 2014 as a part of Brown's probation terms.