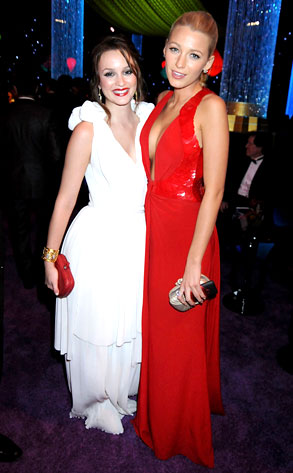 Jeff Kravitz/Getty Images
Dear Ted:
One of my favorite shows on TV is Gossip Girl, but I've got to know if there is any dirt on the costars? Seems as if Blake Lively and Leighton Meester don't get along too well. Also does anyone else, besides Chace Crawford of course, have a Blind Vice?
—Melia
Dear G.G. Gossip:
When Team Awful has spotted the two girls out partying, the two girls haven't even acknowledged each other. Battle of the egos, I'm thinking. As for being B.V. subjects, Chacey-poo is the only one holding down the naughty G.G. fort.
Dear Ted:
This is completely random, but did you know that if you made Tom Cruise a blond, he would look just like Peter Facinelli? It's creepy! On a completely different note, who's Terry Tush-Trade? For the love of all that's holy and good, Ted (I know you're a devout Presby)! I have to know. Your loving, devoted and faithful followers want, need, to know. Please! It's almost Christmas ya know. Spill!
—Bubble
Dear Twins:
Um, no way will Facinelli ever look like Cruise. You might be right, but I refuse to imagine it. As for TTT, my lips are sealed until Terry's are not. Or until he gets caught with one of those damn flipcams.
Dear Ted:
It is 4 a.m. here in Chicago, and I am up sipping tea to sooth my never-ending sore throat. I just saw a snippet of Robin Robertson's interview with Janet Jackson. She was talking about M.J.'s death and her family's attempt at interventions. She also puts it out there who she blames for her brother's death. Although she looked beautifully madeup and composed in the interview, her eyes looked so sad. Any thoughts? Is Janet really speaking from the heart?
—Irish_blue
Dear Questioning Heartache:
Janet speaks more from the heart, whereas Joe speaks more from the pocketbook. But there are still many things left unsaid in this family.
Dear Ted:
I just don't think Taylor-Squared is real. With the obvious hints in interviews and how it's conveniently getting them more attention around the rerelease of her album and the release of New Moon, it just seems too perfect. And if Taylor Swift's a good friend, she wouldn't date Selena Gomez's ex. It just doesn't make sense.
—Robs