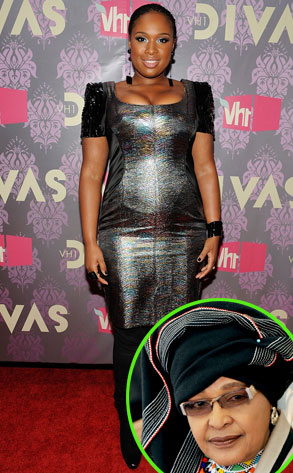 Frank Micelotta/Getty Images, Alexander Joe/AFP/Getty Images
Jennifer Hudson is going first lady on us. Just not our first lady.
The Oscar winner is baiting the Academy once more, this time as she signs on to star as the titular Winnie in a biopic about the wife of former South Africa prez Nelson Mandela.
According to Variety, the drama—based on the Anne Marie du Preez Bezdrob biography Winnie Mandela: A Life—won't shy away from the less flattering and more controversial elements of the famous spouse's life.
A mom and, of course, wife, Mandela was a loyal supporter of her husband and was jailed herself. In later years, she was accused of horrendous human rights violations by an ex-bodyguard, who claimed she regularly ordered him to beat and kill people, including a 14-year-old boy. She was convicted of kidnapping and assault.
Not that Hudson's worried about taking on such a challenging role...